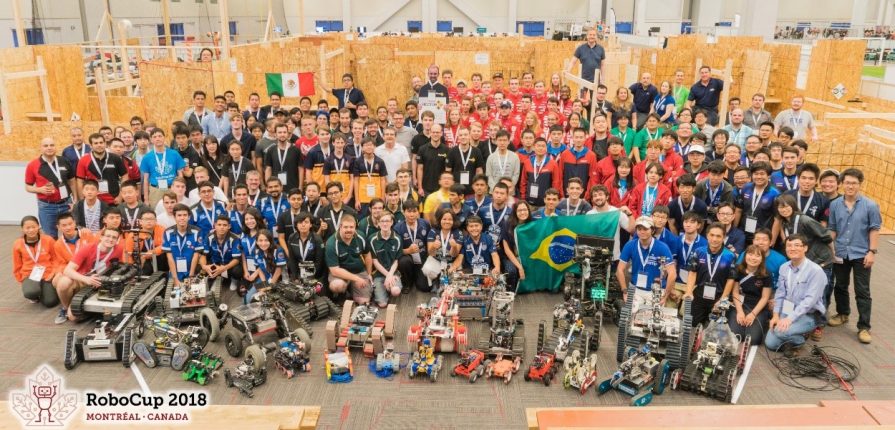 Team Australia is seeking Expressions of Interest to join us for the 2021 International Competition, this year taking place virtually! We are seeking teams for the following categories:
Rescue Line
Soccer – Lightweight
Soccer – Open
Rescue Line
For teams who have or can produce a physical rescue line robot as per international regulations, the virtual Rescue Line Challenge will see teams competing with their physical robot in a number of ways:
3 Videos of your robot's performance
Documentation of your development progress
A live presentation to a panel of judges and other RoboCuppers followed by a Q&A session
A more detailed interview including a live demonstration of your robot in a small suprise challenge
For more information, head to https://junior.forum.robocup.org/t/2021-announcement-for-international-robocupjunior-rescue-competitions/1786
Soccer
Soccer teams who have or can produce a physical robot have the opportunity to represent Team Australia in the Technical Challenges Competition++ 6000 SUX. This challenge will see teams submit:
Team Description Paper (TDP)
Video
Physical technical challenge
Physical SuperTeam technical challenge with teams from around the world.
Expressions of Interest
For both Soccer and Rescue, we are seeking Expressions of Interest from teams who would like to qualify as a part of Team Australia. These expressions of interest are to be submitted as a video, no more than 5 minutes in length, outlining:
Your team and team members
Your history in the RoboCup competition
Your physical robot or robot designs
Your code or code ideas
Demonstration of your robot's function (if a physical robot is available)
Expressions of interest need to be uploaded to the RoboCup Junior Australia OneDrive Folder (https://bit.ly/3eAtu53) by Close of Business (COB) Wednesday, May 26th 2021. Teams will be notified of their successful selection by Friday, May 28th 2021. Any questions or concerns need to be sent to Australia's International Representative, Graham Stock (Graham.Stock@robocupjunior.org.au).
2021 Soccer Sim Challenge
For students who have not built a physical robot but have code, the RCJ Soccer Simulation Challenge will be an additional championship played at the 2021 RCJ and will be held in June, fully virtual. In order to participate in the June Tournament, you need to successfully qualify in one of our Qualification Tournaments in May. The qualification will be held centrally by the RCJ Soccer OC.
In order to participate in the RCJ Soccer Simulation Challenge 2021 you must pass the Qualification stage that will be held centrally by the RCJ Soccer OC in May:
Qualification Registration deadline: May 17'th 2021
Qualification Code submission deadline: May 24'th 2021
More information can be found at https://robocupjuniortc.github.io/rcj-soccer-sim/